Here's where you'll find the best built A123 LiFe Nanophosphate* packs available anywhere. Each pack is carefully assembled, welded, cabled and finished to order for just the way you fly. We use 1/4" wide HD nickel quad welded straps and tabs, strain relieved 18g wiring and connectors are standard. Every pack is equipped with a simple cell tap for ease of balance charging and owner cabling for your favorite charger. We 'double shrink' each pack for fuel proofing and protection of the cardboard sleeves and the outer finish is with our superb 3M Mil Spec rubberised shrink. The packs I build for you are assembled to the same exacting standards we use for the Naval Research Labs and RPV / Robotics applications worldwide. If you want the best for your baby.. it's right here!
-
For a really useful FAQ focusing on the needs of Giant Scale IMAC and 3D flyers considering this technology and some application recommendations for the folks flying 25% through 45% birds just click on the A123 FAQ on the navbar to the left.
-
-
NEW!! A123 'Combo Solution' Packages Deals with price breaks on Combp gear ordered together. Scroll to the bottom of the page for details.
-
A123 18650 (1100MA CELL) PRODUCTION DISCONTINUED DEC 31 2014.
The 1100MA 18650 A123 CELL IS NOW OFFICIALLY OUT OF PRODUCTION.
We've declined offers to purchase 'remaining' inventories of this cell as well as an offer to 'buy into' a 'final' production run based on previous experience with overseas distributors filling these 'final' orders with copies, counterfeits or sub-standard (blem) cells. I flat refuse to purchase inventory that is in any way questionable with regards to quality and source... never have, never will. The ongoing production of the ANR26650 2500ma A123 cell is unaffected by the closing of the 18650 1100ma production line, and as always; we will continue to build packs ONLY with GENUINE, 1st line, top quality FRESH inventory from A123 Systems, Inc.

A123 Systems 18650 Nano M1Cell

Pack Voltage 6.6v 1100ma

Rating 30C (33.0A) Continuous

Pack Size 2-5/8" x 1-1/2 x ¾

Pack Weight 3.0 oz

DISCONTINUED BY MFG 12/2014


-

A123 Systems 26650 Nano M1& M1A Cell

Pack Voltage: 6.6v 2300 & 2500ma

Rating: 30C (69 -75.A) Continuous

Pack Size: 2-5/8" x 2-1/8 x 1-1/16

Pack Weight 5.5 - 5.7oz

-

A123 Compatible charger required!

Please see our application notes

on the A123 FAQ & Setup Guide

The A123 Systems Nanophosphate M1 & M1A cells have proven themselves to be the most serviceable Lithium technology pack available for Mid to Extreme Giant sized R/C applications in the last decade. Here at last is a Lithium Technology that is stable, won't burn your plane, shop or house down if you do everything right, is exceptionally durable, offers superior life expectancy, is light weight, has exceptionally low internal impedance and does not require a regulator for use with modern radio equipment and digital HD servos.

-

At this time we have all three of the current cell offerings from A123 Systems, assembled right here into the pack configurations most commonly used by the discerning top end competitors in Giant Scale and IMAC 3D flying. The 1100 Series is popular as a dual receiver pack and ignition pack in DA-50 powered aircraft (20-27%) and the 2500 series packs are favored in 30-45% birds for both rx & ignition applications. If your new to A123 LiFe application considerations, be sure and check our FAQ for A123 Care and feeding Info, click the link of the navbar to the left.

NoBS Assembly

2 cell 6.6v side by side Rx or Ignition packs are available with a 20g Combo Univ 3 wire Power and Balance feed OR with separate Univ 22g 3 wire balance feed and an 18g JR or FJ power feed at no extra charge. Options for the power feed include EC3, Deans, Multiplex, Power Pole, arranged as dual or single feeds, etc; see the drop down boxes for power feed options currently available. We also have available 3 and 4 cell ECU packs cabled as required for those applications.
*2 Cell Rx & Ignition Packs, 6.6v
All A123 packs available with a 22g universal connector cell tap and one 18g Futaba J or JR/Hitec/AirtZ Connector! Dual Connectors add $5.00!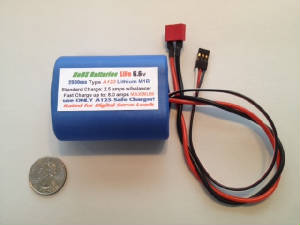 A123 Systems ANR26650 Nano M1-B Pack
Pack Voltage: 6.6v 2500ma
Rating: 30C (75.0A) Continuous
Pack Size: 2-5/8" x 2-1/8 x 1-1/16
Pack Weight 5.7 oz
-
$56.95
NOTE: YES; we have adapters for the packs Univ balance plug or the 3 Wire Combo Connectors that will mate with chargers that use the JST-XH and FMA 'little white molex' connectors. Just scroll down the page for the A123 Accessories.
3 & 4 Cell Turbine & ECU Packs , 9.9v - 13.2v
All Turbine/ECU A123 Packs are available with Deans, EC3, Jetcat / Multiplex or Anderson Power Pole (sermos) plugs on 14g leads and with FMA balance tap ONLY.
| | |
| --- | --- |
| Flat | 3 Triangle |

| | |
| --- | --- |
| Flat | Square |

2500 3 cell

A123 Systems 26650 Nano M1B Pack

Pack Voltage: 9.9v 2500ma

Rating: 30C (75.0A) Continuous

Pack Size (Triangle): 2-1/8" x 2-1/8 x 2-5/8

Pack Size (Flat) 2-5/8" x 3-1/4 x 1-1/16

Pack Weight 9.3oz

-

$84.95

2500 4 cell

A123 Systems 26650 Nano M1B Pack

Pack Voltage: 13.2v 2500ma

Rating: 30C (75.0A) Continuous

Pack Size (Square): 2-1/8" x 2-1/8 x 2-5/8

Pack Size (Flat) 2-5/8" x 4-1/4 x 1-1/16

Pack Weight 13.2 oz

-

$115.95
NEW! NoBS Batteries 'Combo Solution' UltraSwitch II for NoBS A123 packs w/ 20g 'Combo' Input Connector. Your choice of Dual 22g JR or 18g Single Jr/Univ, Deans or EC3 output connectors to the Rx!
-
An outstanding evolution of the UltraSwitch II, set up exclusively for us by ED for our NoBS single lead Combo 20g A123 packs and optimised for Giant Scale applications with your choice of power output configurations. This switch is set up with a 20g 3 wire twisted input that compliments our A123 Packs with the 20g Three Wire Combo Connector, allowing single cable balance charging thru the switch at up to 4 amps. No Mods, no fussing about, order our A123 Packs with the single 20g Three Wire Combo Power Feed (NO separate balance connector!) and your installation is 'plug & play' simple with this switch. The switch output is your choice of either DUAL 22g Univ/JR leads for the Rx (best for single pack, single switch installations), a Single 18g JR/Univ or a single 18g Deans or EC3 output making it ideal for Parallel A123 pack and switch setups and/or SmartFly type power boards with the Deans or EC3 plugs common in high load applications for 30-40% IMAC and Warbirds.

-

$24.95 w/18g JR/Univ, $5.00 more w/ Deans or EC3

*Note: A123 rated, Designed specifically for 2nd generation single lead balance charging! If you have a 1st generation two lead balance charger, use the 'Combo' charge cord sold below; NO SEPARATE CHARGEPORT REQUIRED!

The correct A123 pack connector configuration for this switch is WITHOUT a separate 22g balance lead and WITH the Combo 20g three wire Power Feed.

Combo 20g Three wire Balance Input for NoBS A123 packs, your choice of either Dual 22g JR univ out OR Single 18g JR/Univ out to Rx. Deans, EC3 or Multiplex $5.00 more.

-

$24.95

This is an outstanding HD switch for 20-40% scale projects, allowing balance charging and individual cell voltage checks via the switch chargeport. With the Dual 22g JR/Univ out option the Combo Switch is especially suited to agressive 20-27% sized projects where a Single pack will be used but an additional connection to the Rx is desirable to spread out current loading. Set up with the Single 18g Univ JR connector or Deans, EC3 or Multiplex outputs it is ideal for parallel Pack configurations in the big birds when two packs and two of these switches are used to double available capacity, improve power handling and provide complete power system redundancy. Comes with 'switch guard' faceplate, closeable chargeport hood and makes for a very neat, easy to install assembly. Very light (.7oz) & durable.Max charge rate through the charge port is 4 amps.

$24.95 , + $5.00 for Deans, EC3 or Multiplex outputs.


NEW!! 'Combo Solution' Balance-Charge Cord for JST-XH two lead chargers

Wish your two lead A123 charger could balance charge with just one connection to the pack thru your chargeport switch? This excellent Combo Chargecord works across a broad spectrum of JST-XH balance port or board compatible 2 lead (1st generation) chargers like the TP 610C, B6AC, Hitech X1, X2, X4, Venom, ElectriFly, etc; Allows single cable balance charge connection to the pack if used with any NoBS A123 Rx or Ignition pack equipped with either a single 20g 3 Wire Combined Univ Balance & Power Feed, or a Deans or a JR/Univ power feed with separate Univ balance lead with any of the switches shown below!!.

Makes balance charging with most 2 lead chargers through a single HD chargeport switch simple and easy WITHOUT a separate chargeport and it's fully compatible with Balance Buddy too! Just plug the XH connector into the charger's balance board/port and the banana plugs into the chargers standard output and you are ready to enjoy single lead charging convenience via the switch chargeport!

*Check your chargers manual for JST-XH plug compatibility!!

JST-XH & Banana Plugs

In

Single Univ 20g 3 wire

Out

3-4 Amp max currentRobust HD charge cable is 18" long!For FJ or JR/Univ Chargeport SwitchesPlug & Play balance charging for NoBS A123 Rx/Ignition pack with a Combo 3 wire Univ pack feed and our Custom Combo UltraSwitch shown below.

$24.95

For use with 2 lead chargers that have a JST-XH compatible balance board or output port; intended for NoBS A123 2 cell Rx & ignition packs used with any of the NoBS A123 rated switches shown below. See our A123 Setup Guide for info on standard system chargeport switch modding requirements for most other type chargeport switches.

A123 Balance Tester

*

What we REALLY like about this meter are the very handy individual cell voltage check and balance status functions for A123, Li-Ion and Li-Poly packs up to 7 cells. Will also show the DIFFERENCE in voltage between the 'high' cell and the 'low' cell AND 'fuel guage' the individual cells in the pack. Very Neat! BONUS: We include the correct cable for our NoBS A123 Rx packs!! Makes it a 'must have' in your field box no matter what technology packs you fly with!

-

Just $24.95

Comes with the correct cable for NoBS A123 6.6v Rx

$24.95

JST-XH & FMA CellPro Charger to Univ Cell Tap Adapter Cables.

For use with the standard 'univ' cell tap or the Combo3 Wire Connector to adapt the R/C standard Univ balance tap on our A123 packs to most balance port equipped Chargers. We have three types available, two for FMA chargers as well as another for those chargers that use the JST-XH type plug format for a balance connection. (Hyperion, Thunder Power, Triton ElectriFly, Smart Cube, Fromeco, etc; check your chargers manual for JST-XH compatibility!!)

The adapter cable allows easy access to the pack in the plane via a conventional chargeport equipped switch or separate chargeport. The choices available provide connecting compatability with the vast majority of A123 capapble balancing chargers. See the A123 setup Guide and the A123 FAQ page for info on how to take advantage of in-the-plane access for checking individual cell voltages or balancing A123 Rx & Ignition packs.

JST-XH or FMA Charger to Univ Cell Tap 3 wire Cable

$9.50

*Note: If you planning on buying an FMA Multi-4 Charger from us we include the correct FMA adapter cable with it at no extra charge.

Female Blank Connector for Univ Chargeport

Already have an A123 capable charger? Then you'll need this female charge plug to mate with your chargers molex balance port plug. 22g, 12" length, pre tinned leads.

Female connection for Univ Chargeport, 12"

$1.99

NoBS Balance Buddy Module

Quick access to your NoBS 6.6v packs individual cells for checking cell balance or charging indivdual cells. Comes with Univ system connectors for direct access to any NoBS A123 pack. A must for correcting QUICKLY a major cell imbalance at the field without waiting for a balacing charger's 100 to 200ma 'balance' charge rate to get the packs individual cells back in balance. For more info on how and when to use the Buddy, click the Picture >>.

$29.95

Univ Chargeport for Univ Celltap.

-

Permits external balance charge access to the pack thru the fuselage side. NOT for use with an Cellpro pack tap, this is for use with packs with Univ celltap. See our Setup Guide (link above) for installation details.

Univ Chargeport for Univ Celltap Packs

$3.95

ED Ultra Switch II HD Standard System Switches

Excellent quality HD system switches, perfect for dual pack/parallel setups and Ignitions. Rugged and durable. Available for Futaba or Universal/JR system connectors. Can be user modified for the Combo 3 wire single lead NoBS A123 packs. See our A123 Setup Guide (link at the top of the page) for details.

$17.95

*Note: A123 rated, Can be used with two lead balance chargers that are equipped with a 'Combo' charge cord AFTER user modification.

HD Ultra Switch, FJ or JR/Universal

$17.95


Celltap Extension for Chargeport

Here's a short 3 wire 22g aileron extension that plugs into the Univ chargeport. Facilitates easy removal of the pack from the plane and routes the univ celltap on the packs to the chargeport. See our A123 Setup Guide for installation notes. Choice of 6" and 12" lengths.

Cell Tap Extension, 22g 3 wire for Univ Cell Tap

$3.50
*Putting it all together - The NoBS A123 Combo Solutions

You may have noticed the red asterisks and lines on some of the items above.. they indicate packs, switches and charger cabling all designed to work together seamlessly as part of a complete A123 System. For the majority of folks out there who are looking for a 'drop in solution' for their charger and our packs in their birds, these will work beautifully. Below, I've put together a few 'starter' packages at a discount that combine Our Combo Charger Cable, Our A123 6.6v Rx or Ign packs w/20g Combo Jr/Univ power feed and our new custom Combo Solution Switches with dual or single JR/Univ outputs. An excellent setup for 20-30% Aerobatic and Warbird applications and it's designed to work with over 90% of the chargers out there (check your charger manual for JST-XH compatibility). Choose any of the various Combo's below and save some bucks. The one-click Combo Solutions.. now what could be simpler than that?
The Combo Solution Starter Deal w/ Combo Charge Cable, 2500ma

Includes the Combo Solution 18" Charger Cable, 2500 6.6v pack with Combo 20g 3 wire JR/Univ power feed and a NoBS Combo Solution UltraSwitch with your choice of single 18g JR output to the Rx or Dual 22g JR outputs to the Rx.. Got a big gasser with an ignition engine? Want to build up a parallel pack system at a discount? Here's the perfect start. Combine this offer with either or both of the other Combo Deals below and you have the key building blocks for a multiple pack system for your bird at a discount.


w/2500 pack- Save $10.00 Just $94.95

NEW!! The Combo Solution Onboard NoBS A123 2500 6.6v Deal (single pack system)

The 2500 Pack & Switch Combo Deal includes an A123 2500 6.6v pack with Combo 20g 3 wire JR/Univ power feed and a NoBS Combo Solution UltraSwitch with your choice of single 18g JR output to the Rx or Dual 22g JR outputs to the Rx. Outstanding single-pack solution for big Warbirds and excellent for high drain 3D IMAC birds in the 30cc size range. Reg $79.90

New!! The Combo Solution Onboard NoBS A123 2500 6.6v Deal (5000ma parallel pack system)

The 2500 Pack & Switch Combo Deal includes two A123 2500 6.6v packs with Combo 20g 3 wire JR/Univ power feed and a pair of NoBS Combo Solution UltraSwitches with Single 18g 5JR/Univ outputs to the Rx. Outstanding parallel solution for big Warbirds and excellent for high drain 3D IMAC birds in the 50-150cc size range. Reg $159.80

For more chargers, cabling, switches and HD 20g servo or pack extensions and other setup and support equipment, check our Chargers and Accessories page, just click the link on the navbar to the left.


*A123 & Nanophosphate are trademarks of A123 Systems, Inc. All A123 cells and chargers assembled and distributed by Hangtimes Hobbies and NoBS Batteries are acquired from A123's sole licensed US Distributor. All rights to A123 technology and trademarks reserved by A123 Systems Inc.
| | |
| --- | --- |
| | |
Hangtimes Hobbies NoBS Batteries